For Grandma Chan, it's almost next to impossible!
Grandma Chan lives alone in one of the public housing estates in Hong Kong. Her husband, who has dementia, lives in an elderly home. Their disabled daughter lives in a group home. Because of the different needs, the three of them live scattered across Hong Kong. For a number of years, all Grandma Chan wanted was to meet her husband and daughter together for a simple meal.
But it's not as easy as it sounds.
For video in English, click here.
Donate to support HOPE worldwide's Elderly Service Programme. Together, let's make wishes come true for all!
Enter Mandy and her friends
Mandy has been a volunteer for HOPE worldwide's Volunteers for Seniors Day for more than 20 years. For the 2019 event, Mandy deliberately chose the "Walk the Extra Mile" programme, in which volunteers helped an elderly person fufill a personal wish.
"I didn't want to just do something easy. I wanted our volunteer work to mean something to the elderly person."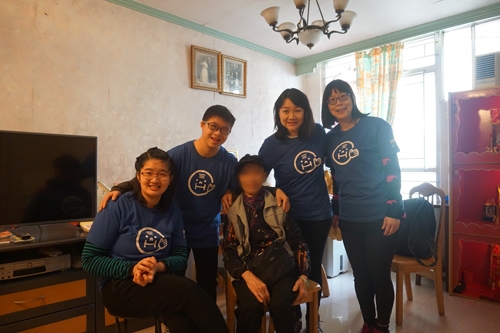 In order for Grandma Chan, her 90 year-old husband, and their disabled daughter to gather together, Mandy and her team had to help them apply for "special leave" from the elderly and group homes, as well as from the Social Welfare Department, communicate with the appropriate case social workers, find a quality and barrier-free restaurant, and arrange for their transportation. This gathering took more than a month to arrange.
On January 20, 2019, Grandma Chan, her husband, their daughter, and volunteers who made it happen sat around a big round table. They all enjoyed a simple dim sum lunch together. In the eyes of an outsider, this was just a lunch gathering of family and friends. But Mandy and the volunteers saw and felt something very different.
"It really took walking many extra miles to pull this meal together! Seeing Grandma Chan's smiles, her fear-filled eyes and hearing her say 'thank you, thank you so much' again and again, we knew she was over-the-moon happy about being with her family. None of us had realized having a family meal could be such a luxury! We were all deeply moved. I am so glad I chose to walk the extra mile."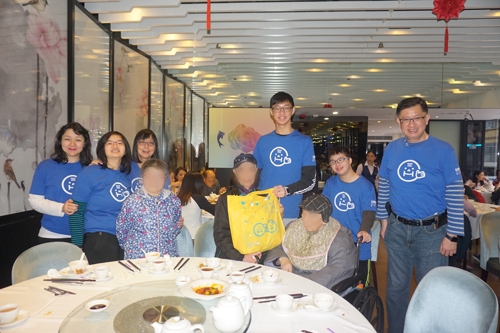 More wishes to fulfill in 2020
HOPE worldwide will hold the 24th Volunteers for Seniors Day on Sunday, January 12, 2020. Close to 3,000 volunteers have already signed up to serve more than 1,000 elderly people across Hong Kong, sharing love and care with their acts of kindness.
Donate to support HOPE worldwide's Elderly Service Programme. Together, let's make wishes come true for all!